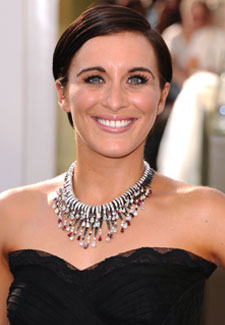 We've been gripped to ITV's Broadchurch for the past six weeks and now bookmakers have put odds on who the killer will be.
As the ITV series prepares to reach its dramatic climax in two weeks time, house husband Joe Miller (played by Matthew Gravelle) has been named odds on favourite to be named as the killer of school boy Danny Latimer.
Also in the running are Susan Wright (Pauline Quirke) with odds of 6/1 and Joe's son Tom (Adam Wilson) with odds of 4/1. Even David Tennant's character Alec Hardy was in the running coming in at 7/1.
Meanwhile one of the show's star Vicky McClure (left), who plays journalist Karen White, has revealed that we're in for a big surprise when the show reaches its conclusion on 22nd April.
Vicky revealed: 'Every day I get asked who the killer is – but I'm not going to say. We didn't know until the end of the shoot. We filmed it not knowing, which was great because it added to the tension on set. When we did find out it was a big surprise. I think people are going to be shocked when it is revealed.'
We can't wait.
Broadchurch is on tonight on ITV at 9pm.
To read why Broadchurch actress Olivia Colman says she is happy to look 'ordinary', click here