The actress has had to endure so much...
Former Eastenders actress Martine McCutcheon has revealed that she endured multiple miscarriages before giving birth to her son Rafferty.

Speaking during an appearance on Loose Women the 40-year-old described the trauma of pregnancy loss.
"I had lost babies and it was horrific every time. The minute that you have that baby you're planning its future and what you're going to do with it and you never sort of truly recover," she explained.
Before adding:
"I was in my late 30s when I had Rafferty and I tried for a long time to have him. I know that even as me at 40, I wish I could have had him earlier, because I know that whatever years I go, I know I'll be cheated out of him."
The actress – who also suffers from ME – went on to reveal that despite the pain of her experiences she would love to add to her brood in the future:
"I'd love to have another child undoubtedly but I kind of want to enjoy Rafferty, he's not even two yet and have this year with him. Then maybe me and Jack can be at it like cat and dog, or hammer or tongs!"

After sharing her story, Loose Women panellist and mum-of-three Linda Robson also revealed that she had suffered a miscarriage after the birth of her eldest son.
"In between Louis and Bobby I tried to have another child," she explained. "I went in for a scan and the women left the room and I knew something was wrong. They came back and told me the baby was dead.
"It was a really traumatic time. Even though it was only three months, it was a really terrible time," Linda added.
It is believed that one in five pregnancies ends in miscarriage – defined as the loss of pregnancy in the first 23 weeks – according to figures cited by the NHS.
So what do you think about Martine's confession? Join the conversation on our Facebook page.
Read more…


The actress has opened up about this important issue...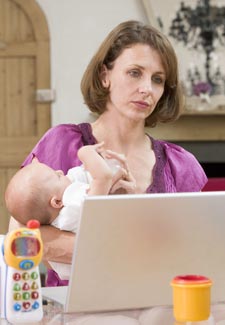 Our counsellor Emma Marlin shares the first steps in diagnosing post-natal depression