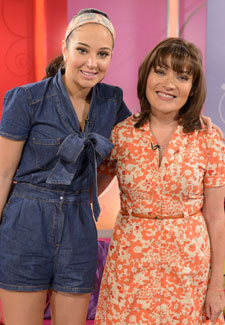 Lorraine Kelly has blasted troubled singer Tulisa, calling her a 'sulky madam'. 

The TV presenter, 53, launched the astonishing attack in her weekly newspaper column, only a week after former X Factor judge Tulisa, 24, was caught offering to help an undercover reporter obtain class A drugs.

'When I first interviewed Tulisa, I thought she was a funny, ballsy young woman who had worked hard to escape her childhood,' Lorraine said.

'I'm not sure what happened but the sulky madam who subsequently showed up at my studio, glowering at my chirpy crew, seemed like a totally different person. I would like to think the feisty young woman who impressed Simon Cowell so much is still there somewhere, but I am not sure Tulisa can claw her way back.'

Ouch!