Kate and William may be officially known as the Duke and Duchess of Cambridge, but as far as royal protocol and formalities go, this royal couple have got a reputation for breaking them!
Just like his mother Princess Diana before him, Prince William has proven he is willing to put his family first. Even if it means breaking with the traditions of the monarchy.
Seen as the faces of the modern royal family, Kate and Prince William have broken a number of long-standing royal family rules. From where they live to the way they are raising their children, here's how Kate and William are breaking with tradition (for good!)
1. Their university experience
William and Kate met at university. They were allowed the opportunity to let their friendship, and then their romance blossom in private, away from prying public eyes. Their university education will also make Kate and William the first King and Queen of Great Britain to both have a degree.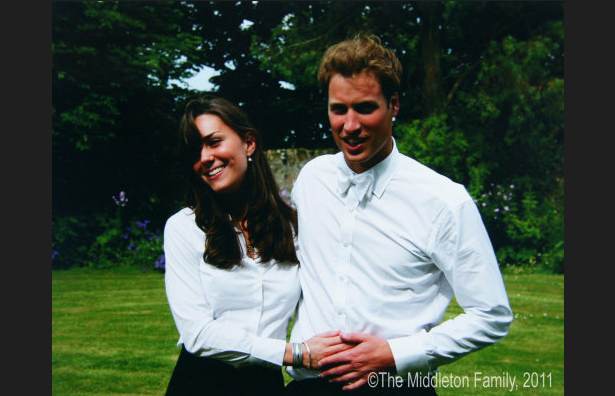 2. A love match
Unlike his ancestors before him, Prince William wasn't going to follow the royal rule and tradition of marrying for political strategy or gain. Falling for each other behind closed doors, without any public pressures or royal interference, Prince William and Kate married for love.

3. Living at Anmer Hall
Kate and William's permanent home is the sprawling country estate Anmer Hall. Complete with acres of land, the ten-bedroom Georgian mansion is the perfect retreat from prying public eyes. Traditionally, the royal family have always been based in London. Whether the Queen at Buckingham Palace, or the rest of the royals nearby in the many bedrooms and cottages at Kensington, that royals have always called the capital home. However Prince William has chosen to break that tradition with Kate, in favour of a quieter life. "It's no secret that William doesn't like the media intrusion into his life, and in the country he can escape," says a family friend. "It's enabling him and Kate to raise their family in a way that's as close to ordinary as they can get."

4. Keeping a low profile
As public figures, the royal family are required to fulfil a certain number of duties and appearances each year. Prince William and Kate have got a reputation for breaking these rules, leading to William making a pact with his grandmother. Prince William made a special agreement with the Queen allowing him to stay out of the limelight. At least for the time being! William chose to break the traditional route of making public appearances and acting as a patron of numerous charities as his day-to-day job and responsibility. Instead, he still acts as a helicopter pilot and cuts down his public duties in order to spend more time with his family. As one friend observed, "They spend most of their time at Anmer because they can live below the radar."
 5. What you see is what you get
Kate and William don't keep up appearances for the cameras. In the past, the royal family have always done a good job of hiding their emotions from the public. From refraining from showing affection in public, to keeping a brilliant poker face at all official events, it was difficult to work out what might be going on behind closed doors at the Palace. William and Kate shun protocol in favour of wearing their hearts on their sleeve. From being affectionate towards each other in public, to roaring with laughter at official events when cheeky Prince Harry makes them laugh.

6. Rejecting a royal RSVP
Prince William and Kate are known for breaking the rules when it comes to the royal family Christmas tradition. Instead of spending Christmas day with the rest of the royal family and the Queen at Sandringham House, Kate and William have shunned tradition in the past in favour of spending their first Christmas as a family of four at home in Anmer Hall.

Last year marked the second time the couple of broken with tradition. Kate chose to host Christmas herself and invite her parents and sibling to join them in Anmer Hall. This year, the couple will break with tradition again. Kate and William, along with their children George and Charlotte, will be spending Christmas with Kate's parents, Carole and Michael.

Kate's sister Pippa described the Middleton Christmas as 'blissfully calm', a stark contrast to the timetabled and formal Christmas at Sandringham. It's thought that Kate and William have opted for a more relaxed Christmas this year, in order to maintain the 'normal' lives they are trying to build for their children.
7. A normal life for the kids
Breaking with the tradition of sending young members of the royal family to a specially selected nursery in London, Kate and William chose to send Prince George to a local Montessori nursery school in Norfolk. They are also now sending him to school in Battersea. Not the school in Kensington where Prince William and Harry went as boys. The unexpected choice was another bold move for the couple to break with royal tradition.
William and Kate also take turns dropping George off and picking him up. William has explained in the past that this is to ensure that they live as a, "normal family". "Right now it's just a case of keeping a secure, stable environment" William said.

8. The high-street heiress 
Unlike designer Duchesses of the past, Kate often wears clothes from the high-street. Favouring items that she is actually comfortable in, instead of designer dresses. We loved her choice of Accessorize earrings and Gap trousers. In addition to her bargain buys, Kate also breaks the royal fashion rules with her footwear. The Duchess has been advised in the past not to wear wedge heels because the Queen dislikes them. However, Kate defies this in favour of their practically and comfort!

9. Family snaps
Prince William isn't shy about his dislike and distrust of the paparazzi. Especially as it is well known that he can't help but blame them for the death of his mother, Princess Diana. So is it any wonder that the heir to throne doesn't like lots of paps around Kate and the kids? So, breaking with royal tradition, Kate and William choose to release photographs of their children on their own terms. Often, without a professional photographer in sight! Kate has proved she's more than handy with a digital camera. She is often the photographer behind some of the sweetest snaps to be released of Prince George and Princess Charlotte. When Kate has to be in the pictures, such as this lovely snap released as the first official photograph of Prince George, Kate's dad Michael steps in to do the honours and act as the family snapper!

10. Thrifty fashion 
Kate's not worried about having an extensive designer wardrobe. She's not afraid to re-wear items, no matter how many times she's been papped in them! Breaking the rules about being seen in an outfit more than once, Kate will re-wear her favourite items just as many times as the rest of us. Like this, her favourite, blazer jean and wedge shoe combo!


11. Hands-on parenting

Just like Princess Diana, Kate refuses to let her children be raised behind palace walls by a troop of royal nannies. Although it is well known that Kate and William do have nanny Maria to to lend a helping hand, Kate is very much a hands-on mum who is bringing her children up herself and in her way! She's been spotted by locals in Norfolk 'popping to the butcher' or 'into a local toyshop' with George in tow. She's also a regular at the local farm-park with her children. Here, George has been seen bottle-feeding piglets and playing in the sandpit with his mum and sister.