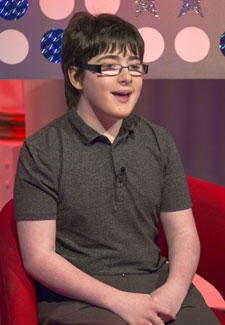 Britain's Got Talent hopeful Jack Carroll has already cracked Hollywood it has been revealed and he is now through to the final after last night's performance where Simon Cowell hailed him as  'genius'.

The comedian, who suffers from Cerebal Palsy, had all of the judges in fits of laughter when he appeared during the Britain's Got Talent auditions and it seems that Simon and co aren't the only ones to be impressed by him.

Jack was invited to attend YouTube's Big Live Comedy Show in LA on Sunday night alongside the likes of Seth Rogen and Vince Vaughn after his YouTube videos were watched by more than 5 million people.

Jack said: 'I only got the invitation the week before last and I hadn't really prepared myself to see all the American comics. I don't think anyone knew who I was… I had to walk down the red carpet with a sign on saying 'am I supposed to be here?! I was just there to eat all the free food and shake a few hands.'

Good on you Jack!