Ricky Wilson, 35, has been confirmed as the new judge on The Voice, replacing Danny O'Donoghue. But for those of you who haven't heard of him before here's five things you need to know…

1. He's the lead singer of indie band, Kaiser Cheifs. Famed for songs like Ruby and I Predict a Riot, the five piece from York have been at the top of the charts on several occasions. They've also won five Brit awards in their time.

2. He's appeared in several Hollywood films. Multi-talented Ricky has starred in films such as Harry Potter and the Deathly Hallows and St Trinians 2 and also had a stint in the West End in the stage adaptation of The War of the Worlds.

3. He's very stylish. In fact, he's so well dressed that Ricky once won an award for being the Best Dressed Male.

4. He has lots of celebrity friends. The singer is close to the likes of former Radio 1 DJ Chris Moyles and Lily Allen who once accidentally sent him a topless picture of herself.

5. He turned down the job once before! Ricky was asked to be a judge on The Voice when the show started two years ago but he turned them down saying that the timing wasn't right. It appears that he's since changed his mind…

 

Like this? Try this: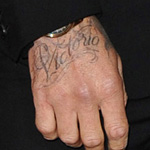 Celebrity tattoos Can you guess who these inkings belong to?