This is so brave!
Actress Denise Welch has revealed that a song from her son's band – the 1975 – is actually about her battle with postnatal depression. She Lays Down includes lyrics which reveal the former Loose Women panellist's experience of the condition, and her fight to remain strong in the face of it's emotional challenges. Verse one reads:

'And she lays down on her bedroom floor, the chemicals that make her love don't seem to be working anymore. She tries her best, but it hurts her chest, and even though her sun is gone, she'd like to love her child nevertheless.'
27-year-old Matt Healy is the band's frontman – and the 58-year-old's son – and the remainder of the song also delves deeper into his mother's struggle, hinting at suicidal thoughts. The first few lines of verse three reads:
'Well we got a plane, going to see my dad again. She prayed that we fell from the sky, simply to alleviate the pain."
Speaking to The Mirror the ambassador for mental health charity Mind said:
"That song is about my depression.
"It's a beautiful song. I didn't know he was going to write it. He wanted it to be completed before I heard.
"It's tough for me to listen to because it's so heartfelt."
Denise has previously opened up about the pain of postnatal depression, which began after the birth of Matt in 1989. She said:
"Matthew arrived after a long, arduous birth.
"Everything was fine at first, then on the fifth day, when I took Matthew home, I had a massive panic attack. It was the first one I had ever had… it paralysed me. Suddenly I was in a sea of depression."
The star also recently revealed on Twitter that she has celebrated almost five years of sobriety, while encouraging others to support those who are mentally ill.
At least one in ten women are expected to suffer from postnatal depression, according to figures from the NCT, which can start between 1 and 2 months after giving birth.
So what do you think of Denise's comments? Join the conversation on our Facebook page.
Read more…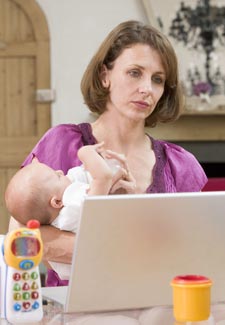 Our counsellor Emma Marlin shares the first steps in diagnosing post-natal depression

The singer has opened up in a new interview...
In addition, why not follow us on Twitter?