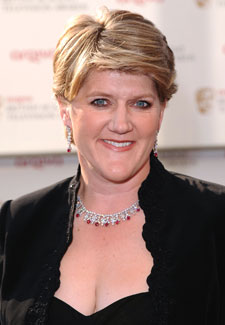 If you thought Clare Balding had a good year last year, strap in – 2013 looks set to be just as jam-packed for the nation's sweetheart.
Clare, 40, conquered the nation last summer presenting the London Olympics and with the release of her first book, My Animals and Other Family, which won autobiography of the year at the National Book Awards.
'2012 was the most amazing year of my life and I loved every minute of it,' she says.
Clare has since wowed us with new game show Britain's Brightest and radio shows on BBC Radio 2 and 4, and shows no signs of slowing down any time soon.
The self-confessed workaholic admits, 'If I wasn't careful I'd work 365 days a year. Alice [Arnold, her partner] gets out my diary and says, "Right. Here and here we're taking a holiday, so don't book anything!"'
Clare also reveals she's hired a stylist to execute her glam new look, which has already won her plenty of attention from the press, with some even speculating that she'd lost weight at a recent awards ceremony.
'In fact, I haven't lost an ounce. It was just a lovely dress – with a very good bra and pants beneath!' It gets a gold medal from us, Clare!
Britain's Brightest is on BBC1, Saturdays at 6.45pm
To find out why Dermot O'Leary thinks Clare deserves an award, click here: https://www.womansown.co.uk/?p=15630