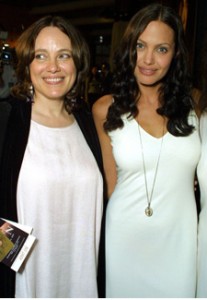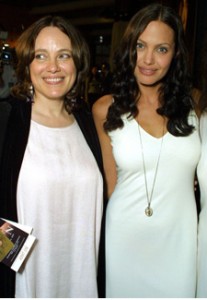 Angelia Jolie has revealed she underwent a double mastectomy to prevent breast cancer.

The Hollywood star lost her beloved mother Marcheline Bertrand (seen with Angelina, left) to ovarian cancer at the age of 56. Angelina, 37, then discovered she carried the BRCA-1 gene, which gave her an 87 per cent chance of developing cancer.

In an article in the New York Times she said she had taken the difficult decision so she could tell her children 'they don't need to fear they will lose me'.

Angelina praised the support her fiancé Brad Pitt and their children, Maddox, 11, Pax, nine, Zahara, eight, Shiloh, six, and four-year-old twins Knox and Vivienne, gave her during treatment.

'I am fortunate to have a partner, Brad Pitt, who is so loving and supportive. So to anyone who has a wife or girlfriend going through this, know that you are a very important part of the transition. Brad was at the Pink Lotus Breast Center, where I was treated, for every minute of the surgeries.

Just like all women who have made this decision to drastically reduce their chances of developing cancer, Angelia has made a brave decision and we wish her and all women in a similar situation a healthy and happy future.