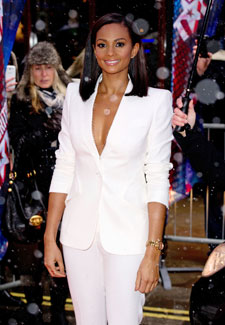 Alesha Dixon looked stunning at the red carpet launch of the Britain's Got Talent London auditions we were invited along to at the weekend.
We caught up with Alesha, who told us, 'Amanda Holden is now my TV wife!'
'Simon is David's TV wife too, so there's great chemistry between us all,' she added.
'Amanda and I both keep the boys in line, because sometimes they get carried away and play to the crowd, which is lovely. But at the same time, you've got to think about the person on stage in front of you.'
As for any style war that might erupt between the ladies? Alesha revealed there's no such thing!
'Our stylists are really good friends so they make sure we're not wearing the same colour. Amanda actually gave me a dress that didn't fit her!'
To find out what Simon Cowell told us at the latest BGT auditions, click here: https://www.womansown.co.uk/?p=15731