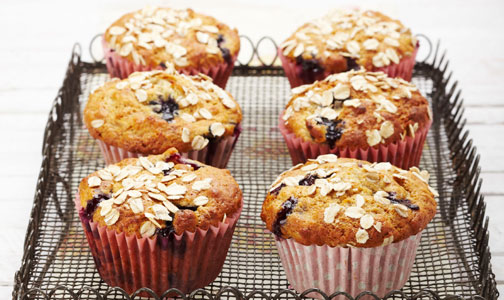 The fresh blueberries in these low calorie muffins make them all the more delicious! From tray to tasting in just 20 minutes! 
YOU WILL NEED
110g plain flour
110g butter
65g caster sugar
2 eggs
1and a 1/2 tsp baking powder
125g fresh blueberries
Makes: 12 muffins
Prep time: 10 mins
Baking time: 20 mins
HOW TO DO IT
1. To make these blueberry muffins simply cream together the butter and sugar until smooth, then slowly add both eggs to the mixture. Combine the flour and baking powder to the mixture and store in the fridge for about an hour.
2. Once the hour is up, preheat the oven to 200C/Gas 6 and place muffin cases onto a baking tray. Add the blueberries to the mixture and then spoon into the cases.
3. Bake for about 20 minutes or until the muffins have risen and are golden brown.
Love this blueberry recipe? Try these delicious blueberry pancakes