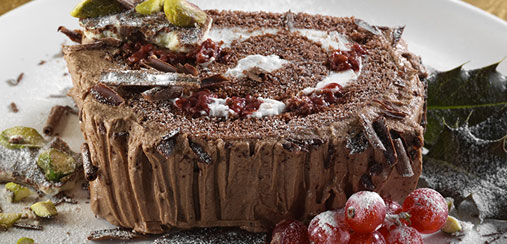 You can't beat a chocolate log at Christmas. The squidgy chocolate pud is filled with cream, fruit and even more chocolate – it's definitely one for the chocoholics!
YOU WILL NEED:
150g Whitworths for Baking Caster Sugar
6 large free range eggs, separated
250g dark chocolate (70% cocoa)
Whitworths for Baking Superfine Icing Sugar, for dusting
For the filling:
400ml double cream, lightly whipped
150g raspberries, or canned cherries
For the chocolate butter cream:
250g unsalted butter, softened
450g Whitworths for Baking Super Fine Icing Sugar
50g cocoa powder, sifted
2 tbsp milk
Prep time: 40 mins
Cooking time: 15 mins
HOW TO MAKE IT:
1. Heat oven to 180C.  Line a 23 x 33cm Swiss roll tin with baking paper.
2. Whisk the Whitworths for Baking Caster Sugar and egg yolks in a bowl until light and thick.
3. Melt the chocolate, allow to cool slightly and stir in the sugar mixture.
4. Whisk egg whites to stiff peaks in a large, clean bowl.  Gently fold into the chocolate mixture using a large metal spoon. Pour the mixture into the prepared tin and bake for 12-14 mins until risen and springs back to the touch. Leave to cool in the tin for 5-10 minutes.
5. Lay a sheet of baking parchment on a board. With one bold movement, turn the cake onto the paper, then lift off the tin. Carefully peel away the baking paper and leave to cool completely.
6. Spread the whipped cream all over the cake and evenly spread out the fruit. With the long side opposite you, use the paper to roll up the cake. The cake may crack as you roll it, but don't worry!
7. Cut approximately 1/3 rd of the cake, cut a thin slice off the smaller piece on the diagonal.
8. Transfer to a serving plate, placing the smaller piece on the side of the cake with the diagonal edge resting against the larger piece.
9. For the butter cream, beat the butter, then sift in the Whitworths for Baking Super Fine Icing Sugar and cocoa.  Beat well, adding enough milk to create a smooth light butter cream.
10. Spread the butter cream over cake covering all the sponge.  Use a fork to create a log effect.
11. Decorate with a dusting of Whitworths for Baking Super Fine Icing Sugar and serve.
Recipe: Whitworths