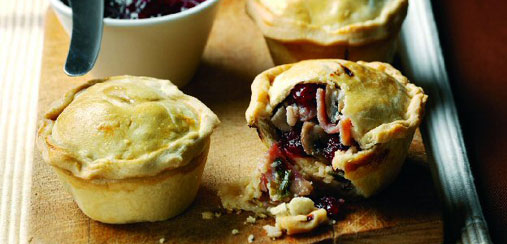 We can't even look at these indulgent bacon, cheese and cranberry pies without feeling hungry! Ready in just over an hour, we bet they won't be around for long. Serve them warm or cold with extra cranberry sauce.
You will need:
350g/12oz plain flour
175g/6oz lightly salted butter
225g/8oz packet smoked back bacon, diced
225g/8oz baby chestnut mushrooms, quartered
175g/6oz mature cheddar cheese, diced
5 tbsp Ocean Spray Wholeberry cranberry sauce
Small handful flatleaf parsley, roughly chopped
1 egg, beaten
Serves:
Prep time:
Cooking time:
HOW TO MAKE THEM:
1. Place the plain flour and butter into a food processor and process to fine breadcrumbs. Add 3-4 tbsp cold water until the mixture comes together. Chill for 15 minutes.
2. Preheat the oven to 200*C/fan oven 180*C/Gas mark 6.  Roll out two-thirds of the pastry on a lightly floured surface and cut out 10 x 41/4in/11cm circles and use to line 10 muffin holes. Roll out the remaining pastry and cut out 10 x 31/4in/8cm circles and set aside.
3. Place the bacon and chestnut mushrooms into a saucepan and cook for 8 minutes until the bacon is cooked, the mushrooms softened and any moisture has cooked off.
4. Stir in the cheese, Ocean Spray Wholeberry cranberry sauce and parsley and divide between the pastry cases. Brush a little water around the rim of the pastry. Cover the filling with the remaining pastry circles and press together to seal. Roll any overlapping pastry back towards the centre of the pies to cover the rim and press down to give a good seal to the pies. Brush with a little beaten egg and bake for 25 minutes until crisp and golden.
Recipe: Ocean Spray