20th March 2017 – Ken Barlow reveals his surprise feelings towards Deirdre
In may be less than two years since Deirdre Barlow was laid to rest, but that hasn't stopped former husband Ken from talking less than positively about their relationship.
Lamenting at the news of Sinead's pregnancy in a recent episode – which he describes as "nothing short of a disaster" – he also reveals that his own "fate was sealed" and he felt "stuck" with Deirdre.
Of his late wife – whom he married in 1961 – he continues:
"I made the best life I could with Deirdre", before adding that he "loved her, very, very dearly" despite not having any any "real meeting of minds"
Thankfully Bill Roache had amazing things to say about on-screen wife Anne Kirkbride – who passed away after a short illness in January 2015. Speaking at the time he said:
"I feel Anne's loss so personally having worked closely with her for over 40 years.
"She was such a loving and vibrant person."
13th March 2017 – Tom Hardy has recorded more bedtime stories
Few things are more swoon-worthy than Tom Hardy lulling you to sleep with a bed time story. And if you loved the double helping you were served of the BBC slot on Valentine's Day, you'll be pleased to hear that there may be more to come!
The BBC has confirmed that the actor has filmed a total of five Bedtime Stories, so three more instalments could be hitting our screens.
And the channel is kicking things off on March 26th – yep that's Mother's Day! – when Tom will read There's A Bear On My Chair at 6.50pm.
Hooray!
9th March 201 7 – Gogglebox star becomes granddad at 36
A star from the Australian version of Gogglebox has become a grandfather for the first time at 36.
Father-of-six Grant Jackson welcomed granddaughter Norah – the daughter of his 18-year-old son Corey – by sharing a sweet post on Facebook.
While Grant was initially shocked at the news that they were going to become grandparents at such a young age, his wife Stacey couldn't contain her excitement.
Grant said: "Corey took us aside and said he had to talk to us about something… our very first reaction was probably shock."
Stacey added to New Idea: "It was after that moment I had this feeling of love for this little person I hadn't met yet but who was going to make a very special addition to our family's lives."
8th March 2017 – Rachel Riley left red faced on Countdown
Cringe moments. Boyfriends are famous for wading their way into them. And one person who learnt that all too well is Countdown host Rachel Riley.
The 31-year-old's boyfriend Pasha Kovalev made a guest appearance on the show and made a lasting impression in more ways than one!
As the letters MEPHALSUL were placed up on the board for contestants to test their word-generating mettle, the Strictly dancer couldn't resist a seven-letter suggestion.
Eyebrows were already raised as the letters PH were placed next to each other on the board. And this was the end result!
While Rachel was stunned into silence Nick finally remarked:
"Right, very good. Sorry I was just a little stunned for a minute. Thank you very much!"
Oh dear!
7th March 2017 – Ronnie and Roxy could be returning to our screens!
They came to a grisly end on Eastenders after drowning in a swimming pool, but it seems that even an on-screen death can't prevent Walford sisters Ronnie and Roxy from making a TV comeback.
It's been rumoured that Samantha Womack, 44, and Rita Simons, 39, have caught the eye of Strictly bosses.
"They are keen to sign at least one of them and, if possible, both of the girls for the new series," a source revealed.
We would LOVE to see this happen, and can just imagine the glamorous duo strutting their stuff under the show's famed glitter-ball!
6th March 2017 – Kym Marsh to continue on Coronation Street
She impressed fans and show bosses alike with her amazing acting skills in the Michelle Connor stillbirth storyline, and now it's been revealed that Kym Marsh's character will continue to wow us on the cobbles.
According to reports the 40-year-old will now remain on the hit soap until the summer of 2018.
"Over the past year she has been handed some really challenging storylines, and she has handled them all brilliantly," a source told The Sun.
"But it was the miscarriage scenes that really blew them away.
"Over the years Michelle has become a real Street favourite and everyone is pleased that Kym has signed for another year."
We can't wait to find out what's coming up for Michelle. Apparently her divorce from Steve is set to get "poisonous". Oooh!
16th February 2017 – Danny Dyer QUITS Eastenders!
It's a shock decision that has seemingly come out of the blue, and will leave soap fans reeling. Danny Dyer – aka Queen Vic landlord Mick Carter – has reportedly called time on his Eastenders role after concerns over his recent partying.
A show insider has hinted that the 39-year-old could be taking a break from Walford for several weeks, with TV bosses not to happy about his antics at the recent NTAs.
They said: "The producers are concerned about him for a number of reasons.
"It was clear to onlookers he appeared very drunk at the NTAs. It is best that he takes some time out to sort his life out. He appears to be exhausted.
"As a result, Danny is not filming on the show at all. There is an enforced break that is expected to last a number of weeks.
"At the end of the day, he remains the biggest star of the show — so everyone is determined to get him back to his best."
We really hope this isn't for good!
14th February 2017 – Mary Berry's replacement revealed
We're still reeling from the news that GBBO hosts Mary, Sue and Mel will no longer front the hit baking show. And while rumours about suitable replacements have been circulating since last year, it's now been confirmed that Prue Leith will join Paul Hollywood on the judging panel.
The 76-year-old restaurateur, writer and food campaigner is best known for shows including The Great British Menu. And with her straight talking manner and easy laugh, it's no surprise that Prue has been chosen to cast her foodie eye over the Bake Off's array of cakes and bakes.
A source told The Sun : "In cookery circles, she's practically royalty.
"Both are from similar backgrounds, so hopefully viewers will be accepting and give Prue a chance to win them over.
"Following in Mary's footsteps is a big challenge.
"But the producers are confident that Prue has all the attributes."
We can't wait to see how this turns out!
9th February 2017 – Gemma Atkinson bids goodbye to Emmerdale for a new career in Bollywood?
Going from the Dales to the bright lights of Bollywood would seem a leap too far for many. But apparently that is exactly what Emmerdale actress Gemma Atkinson is planning to do when she makes her exit from the hit soap.
A source told The Sun: "Gemma has loved her time in Emmerdale and isn't saying it's for good.
"But she's taking an extended break to focus on other avenues.
"She loves doing the radio and also wants to broaden her horizons on the acting front."
The 32-year-old first made her Bollywood debut in suspense thriller Fever last year and we can't wait to see what the next twelve months will bring!
2nd February  2017 – Weatherfield fans to get a double dose!
Coronation Street fans rejoice! Show producers have revealed that the hit soap is to air six times a week from next year.
ITV's Director of Television, Kevin Lygo, said the new schedule "will be the next exciting chapter in Corrie's story".
And if that wasn't exciting enough show bosses have sought planning permission to double size of the Weatherfield set, potentially taking in a new street.
An ITV spokesperson told Daily Star: "This is an extremely exciting development for the production team, cast, writers and crew."
The range of new locations could include a court, a police station, a school and a shopping mall.
We're hoping that a new street means even more characters on the cobbles. We can't wait to see how this pans out!
27th January 2017 – Mary Berry shocks fans with revelation about her husband
Former GBBO presenter Mary Berry is known for not mincing her words. So it comes as no surprise that the baking supremo didn't hold back when it came to question of whether she'd ever like to hot foot it onto Strictly Come Dancing.
"Never, never, never!" said the 81-year-old.
"My husband would leave me and my children would chuck me out."
A tad extreme we think. But no one can accuse Mary – who recently won the TV judge prize at the NTAs – of not sticking to her principles. And besides she doesn't want to chance the wrath of judges including Craig Revel-Horwood after admitting that she is "the clumsiest person". Mary – we'd still love to see you do the samba, regardless!
26th January 2017 – Coronation Street's Michelle and Steve to divorce?
Coronation Street couple Michelle and Steve have really been through the mill recently. Still reeling from the death of loss of their son Ruari, husband and wife were overcome with grief as they laid their little one to rest.
And now it's emerged that the sad news is far from over pair, with a show insider hinting that they could part ways for good following the revelation that Steve is the father of Leanne Battersby's unborn child.
"Michelle finally discovers the extent of Steve's betrayal and, as expected, she doesn't deal with it lightly," a Corrie insider told The Sun.
"She goes totally berserk and declares war on Steve. She brings in the lawyers and tells the love rat she's going to divorce him."
If this plays out, it's going to be one shocker of a storyline!
23rd January 2017 – Has Kate Ford just revealed the day of her last date on Coronation Street?
Coronation Street actress Kate Ford has revealed an end date for her time as Weatherfield's Tracy Barlow. But don't fret, as it's a surprising 40 years from now!
Speaking to The Sun, the mum-of-one said:
"It's hard to imagine myself here at 80, shouting and screaming, throwing myself on crash mats and fighting with female residents.
"But I'd be honoured to be here as long as they would have me."
Clarifying her position, she added:
"I can imagine Tracy turning out quite like her grandmother Blanche, getting drunk, insulting everyone and causing trouble.
"Will Tracey still be here at 80? You'll have to wait and see."
The comments come as the 40-year-old revealed she had quibbled with producer's in the past about the portrayal of her on-screen character.
"For a while the scriptwriters would have Tracy fight with someone, then they'd leave, and they'd give her another arch-enemy. It got a bit old."
We're keeping our fingers crossed that Kate will be on the cobbles for as long as possible!
11th January 2017 – Kate and Alfie get their own spin off show!
Jessie Wallace and Shane Richie (aka Kate and Alfie) were reunited last year on an episode of Loose Women. And we couldn't have been more excited about seeing one of Albert's Square's most dedicated couples coming together once more.
And now it's been confirmed that we are set to get a second helping of the fiery twosome. Hooray! Speaking on the One Show Shane confirmed that Eastenders spin off Redwater will be hitting our screens. And soon! He said:
"We filmed it for five months last year and it will hopefully be hitting the BBC screens between March and April. Hopefully me and Jessie will be coming here to talk about it and hopefully show you an exclusive trailer. We are so excited about it."
Kat and Alfie's Irish adventure it set to uncover secrets from their past and has been compared to Broadchurch. We can't wait!
9th January 2017 – Scarlett Moffatt signed up as Saturday Night Takeaway co-host
Since being crowned queen of the I'm a Celeb jungle Scarlett Moffatt's TV career has gone from strength to strength.
Now its been confirmed that the 26-year-old will be getting her very own prime-time TV slot after landing a co-presenting slot on hit ITV show Saturday Night Takeaway.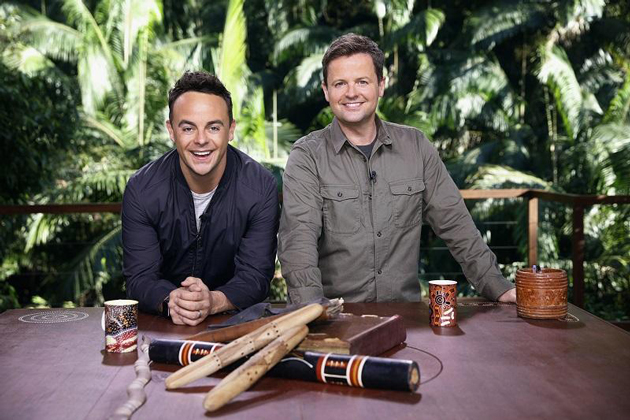 The reality star will be joining veteran hosts Ant and Dec when the show returns later this year.
"I've watched Saturday Night Takeaway with my family for as long as I can remember I'm such a huge fan, so to be part of one of the biggest entertainment shows out there, with two of my all time TV heroes Ant and Dec, is an absolute dream," she told The Sun.
"I am so excited. I didn't think 2016 could be topped but I really can't wait for my Saturday nights now."
3rd January 2017 – Eastenders release an alternative ending for Roxy and Ronnie.. Where Ronnie survives! 
It was one of the most shocking exits in soap history… But apparently producers weren't content with just one heartbreaking ending for Eastenders duo Roxy and Ronnie.
Instead, they've released another harrowing finale on social media app Snapchat. And this time, Ronnie survives!
The clip shows Ronnie looking devastated after she and new husband Jack discover Roxy's dead body.
Check out the alternative ending here…
https://www.youtube.com/watch?v=EgAK-pVTwdE
Viewers have taken to Twitter to express their feelings about the alternative ending. And they're not exactly thrilled.
So, like this? Read more of the latest celebrity news and gossip here…
Could these be the most romantic celebrity couples ever?! They've appeared in some of our all time favourite films, playing characters…