Could these be the most romantic celebrity couples ever?!
They've appeared in some of our all time favourite films, playing characters who are part of epic and tear-jerking love stories. However, for these stars and celebrity couples, their off-screen romances and love lives have been just as cinematic!
Reading like any good romantic movie film script, these celebrities have love lives that would be silver screen worthy. From chance encounters, to finding their 'one' when all hope is nearly lost. Or, having a love that has endured many ups and downs over the years.
Ryan Reynolds and Blake Lively are a couple that frequently melt our hearts with their sweet displays of affection.
Ryan had us swooning recently when he was asked to recall the moment that he knew Blake was 'the one'. Here's what he said:
"We were hanging out at this little restaurant in Tribeca that's open really late, and this song came on and I was just like, "Want to dance?" No one was in there, so it was just totally empty. And it was just one of those moments where halfway through the dance, it was like, 'Oh, I think I just crossed a line.' "
Even just the way some of these celebrity couples look at each other on the red carpet. You can tell their love is genuine and not just a 'show-mance'. Take Nicole Kidman and Keith Urban, their displays of affection at red carpet events frequently have our office going weak at the knees. Everyone woman should have a man in their lives who looks at them like Keith looks at Nicole!
Do you agree? Let us know by joining the conversation on our Facebook page! 
So, here are our favourite romantic celebrity couples…
Nicole Kidman and Keith Urban
Everyone should have a man in their lives that looks at them the same way Keith Urban looks at Nicole Kidman on the red carpet. They are one of Hollywood's most romantic couples, and their fairy-tale romance reads just like a film script. Nicole has even admitted in the past that she was worried she was going to end up 'alone' when Keith walked into her life and swept her off her feet, "It's unbelievable that we found each other and at that stage in our lives were able to connect in that way and be that open to what the future was going to be," she said in an interview with Vogue Australia. Although she didn't really listen to country music before they met, now Nicole is adamant that she is her husband's 'biggest fan'! They've now been married for 10 years (with Keith flyinf halfway around the world to celebrate the milestone with his wife in the middle of his US tour) and they have two children together, Sunday, eight, and Faith, who is five.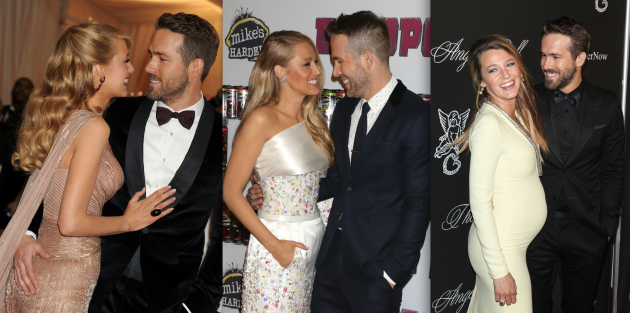 Blake Lively and Ryan Reynolds
They are the picture perfect couple who have won our hearts with their red-carpet displays of affection and their honest quips about what it's like to be a parent to their adorably named daughter 'James'. Now Blake, 28, is pregnant with the couple's second child, and the loved-up duo couldn't look more excited to be adding to their family – or more in love with each other! Ryan even gushed in an interview, "when we had that baby, I fell more in love with my wife than I'd ever been in my entire life". Sweet!
Jennifer Aniston and Justin Theroux
Jennifer Aniston's love-life has at times been so dramatic, and heart-breaking, that it's captured the public's hearts more than some of her famous film roles. However, after that infamous split from well-known Hollywood A-lister Brad Pitt, Jennifer is now enjoying her well and truly earned happily ever after with the affectionate and loyal Justin Theroux. She describes herself as 'lucky' to have met the charming actor, and confessed in an interview, "Justin is the funniest person I've met."
READ THE FULL INTERVIEW WITH JENNIFER ANISTON HERE
Matt Damon and Luciana Barroso
Did you know that 'Jason Bourne' actor Matt Damon met his wife in a bar? Sounds like a perfectly normal way to meet someone for the likes of us, but less so for a Hollywood A-lister! Luciana was swept off her feet by the charismatic action star, and now the couple have been married for 11 years and have three daughters together, as well as Luciana's daughter from a previous relationship. Matt has said in the past that he was thankful he married someone who wasn't famous themselves, as it has allowed his family to live a fairly normal life. Not to take away from the indescribable amounts he loves her of course, with the 45 confessing, "My wife is my soul mate. I can't imagine being without her."
Patrick Swayze and Lisa Niemi
One of the most romantic couples in Hollywood during his time, Parick Swayze and Lisa Niemi's love story was one that spanned most of Patrick's short life and carries on in Lisa's memory now that the star is gone. The pair met when they were just 15 years old, and got married when Patrick was 22 years old and Lisa was 19 years old. Despite separating for a time in 2003 when Patrick had a drinking problem, the soul mates made it through the tough times and were married for 34 years – right up until the actor's untimely death. After Patrick passed away, the grieving widow confessed, " I feel like he hasn't left. I can feel every contour of his hand in mine."
WATCH THEIR AMAZING DUET TOGETHER IN 1994 HERE